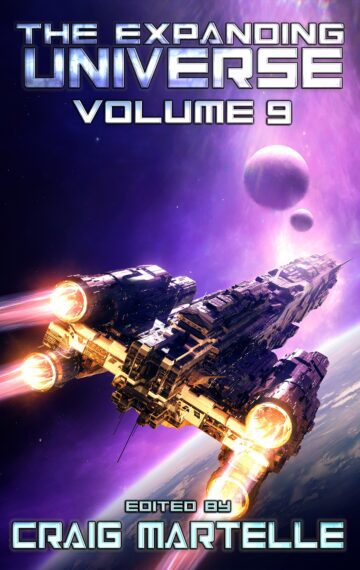 Explore the universe… with the 9th Volume of The Expanding Universe, a short-story collection to pique your interest and sharpen your mind with seventeen authors and nearly 130,000 words.
"Two possibilities exist: either we are alone in the universe, or we are not. Both are equally terrifying." Arthur C Clarke penned those words, and they stand true to this day. Do we want to be alone? Leave it to science fiction authors to address that question in equal measure.
Aliens can be peaceful or not. Who will emerge as the superior strain of intelligence? Humanity may be new to the game, but they aren't new to conflict.
Fantastic races vying for dominance. A microcosm of the greater good. Battles fought for higher ideals. Battles fought just to survive.
War doesn't care about human or alien. The soldiers fight, and they fight hard, as if their lives depend on it.
Because they do.
Here are the stories and their authors in TEU9.
Remora of the Deep
By Lawrence M. Schoen
A serially immortal assassin arrives to help a planet of beings who have transcended humanity.
RECON PILOT
By Jonathan P. Brazee
With the Botam Army advancing and the battle lost, Pilot Sergeant Two Zuri Onai is ordered to retreat and evacuate off planet. When she spots a wounded Techno soldier behind the Botam forces is there anything she can do, does she even want to?
The Visitation
By Richard Cartwright
Middle Ages. Aliens. Madness.
Lemon Pegasus
by Mike Jack Stoumbos
Near the end of his exploration career, an aging biologist discovers a creature from Terran mythology on an alien planet, but is his find too good to be true?
Roadside Assistance
By Alastair Mayer
In space, simple problems can be really hard to fix. A T-Space story.
The Audition
A Four Horsemen Universe Story
By Chris Kennedy
Free the Beasts
By E.W. Barnes
Risking a mission to do the right thing? That's a gamble worth taking.
The Pet Extractor
By Andrew P. McGregor
Quork risks all to infiltrate a space station and rescue two pets from their monstrous keeper.
STATUS THREE AGENT
By T.S. VALMOND
Nothing is ever what it seems, not even your memories.
First Contact
By Robert G. Williscroft
First contact is not always what you might expect.
Ungentle Wings
By Alex Bates
When swords and blasters aren't enough to deal with scrappers, maybe a little local help can be obtained.
Old Age and Treachery
By LJ Dix
An aging captain and an obsolete ship are all that stand between their fleet and destruction.
THE YEARS CONDEMN
By Mark Henwick
A fractured humanity faces an implacable, invincible foe.
Another Bad Decision
By Ray Wenck
He made an art form of bad decisions – but this one might cost him his life.
The Dolos Imperative
By John W. McIntire
Caught between allegiances, can a former Marine make the right choice?
Survivor
By Todd McCaffrey
The Canaris Rift is a strange place.
The Taking of Haulus Max 5
By Craig Martelle
Even if you don't want to, sometimes you still have to do it yourself.