Media Kit for Participating Authors in the IASFA Free Book Promotion that runs from May 11 through 15. All participating authors need to hit their list during this promotion and push the info below – you are more than welcome to copy/paste as it is or customize it for your readership. The purpose of these promotions is twofold – 1) build the IASFA list (which is at 3k and growing) and 2) give your books exposure to an SFF-specific readership. IASFA is a professional organization supporting you while you support us, not with money, but with sharing promotions like this which then helps the next promotion be even more impactful. A rising tide lifts all boats – help us to help you.
Copy/paste the info from below this line (not the stuff above – that's just for you, our participating author)
—————————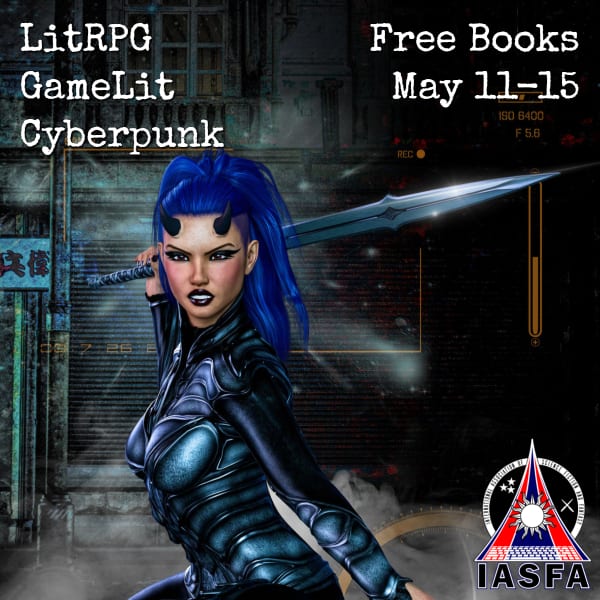 From May 11th through the 15th, pick up enough free LitRPG/GameLit/Cyberpunk novels to fill your summer reading needs.
Play the game, win the prize, or die.
Dakota Krout had this to say about the genre: "LitRPG is progression fantasy or science fiction bound by the rules of a video game. It uses a hard-magic system that allows the readers an in-depth look at those rules, which ensures consistency and allows for the mitigation of power creep."
Available only from the mysterious IASFA. This link takes you to the sign-up, where there are a few more steps because the evil internet trolls have attacked and we must hold them at bay.
1) click this link https://iasfa.org/get-free-books/
2) Become an Insider by filling out your name (or online persona) and email address
3) Answer the math problem because we know trolls suck at math
4) Check your email – you should have received a confirmation email thanking you for subscribing, but you have to click on this to confirm your confirmation because we know that is the kiss of death for trolldom
5) Your subscription is confirmed! Go back to your email for the final confirmation which, during the free promotion period, will include the super-secret link that takes you into the back-end of the site where you can find incredible titles from some of the top names in the genre as well as well-established newcomers. If you join before the promotion timeframe, then you'll get an email on the first day of the promotion with the super-secret link.
Find your next favorite author right here, right now.
And next month, get ready for the end of the world as we know it – Post-Apocalyptic titles will tease your reading fancy from June 9-13.
The International Association of Science Fiction and Fantasy Authors (IASFA) is a professional organization focused on aligning readers with authors. We are building the organization that currently numbers over 600 authors published within the SFF genres. Stay tuned as each month we'll offer full book samplers for free along with less frequent paid book bundle promotions. Help yourself to find your next favorite author.