Media Kit for Participating Authors in the IASFA Free Book Promotion that runs from August 10-14. We strongly encourage participating authors to hit their list during this promotion and push the info below – you are more than welcome to copy/paste what we have or customize the promo language for your readership. The purpose of these promotions is twofold – 1) build the IASFA list (which is at 6k+ and growing) and 2) give your books exposure to an SFF-specific readership.
IASFA is a professional organization supporting you while you support us, not with money, but with sharing promotions like this which then help the next promotion be even more impactful. A rising tide lifts all boats – help us to help you.
Copy/paste the info from below this line (not the stuff above – that's just for you, our participating author) or use your own text, but for this promotion, direct your readers to the sign-up link for the group and not directly to your book. That is the foundation on when we've built the IASFA – authors helping authors.
________________________________________
All great science fiction has romance, but some have more than other. Romance is a critical element of any store. Few exist beyond the draw of love and then passion. Passion gives us zest for life. People like to see selfless acts for love's sake. I bet if you give these books a look, you'll find you might like them, even if you've never read a romance before. Because you've read science fiction before.
Kirk and the Orion slave girl who went on to become Batwoman… But I digress.
Are you in the mood for a Happily Ever After? Do you love the electricity in the air when two are meant to be one? Maybe Science Fiction Romance is for you.
This month we have a small but mighty selection of free SFR books. SFR has all the world-building you love, but the main plot focuses on the relationship between the main characters. Mighty, blue-skinned warriors rescuing human damsels in distress. Powers of the mind connecting characters in a romantic partnership to last the ages. Aliens and humans falling in love. With plenty of action and lots of steam.
Find your new guilty pleasure with this selection of Science Fiction Romance books. Free August 10-14 only from the cupid-robots at IASFA.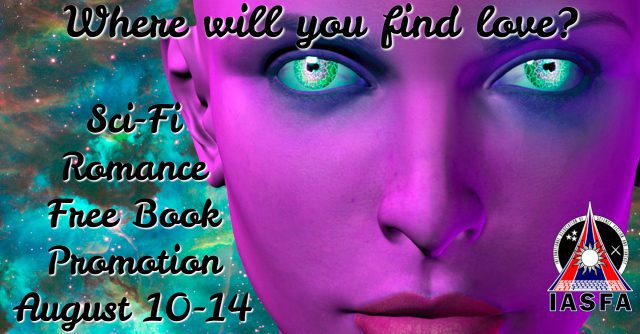 Available only from the eminently mysterious IASFA (International Association of Science-Fiction & Fantasy Authors). You can't get there with one click because we're fighting the scum of the wasteland. Here is what it takes to get you to your free books.
1) click this link https://iasfa.org/get-free-books/
2) Become an Insider by filling out your name (or online persona) and email address
3) Answer the math problem because we know ravagers suck at math
4) Check your email – you should have received a confirmation email thanking you for subscribing, but you have to click on this to confirm your confirmation because we know that is the kiss of death for scum-sucking bottom feeders
5) Your subscription is confirmed! Go back to your email for the final confirmation which, during the free promotion period, will include the super-secret link that takes you into the back-end of the site where you can find incredible titles from some of the top names in the genre as well as established newcomers. If you join before the promotion timeframe, then you'll get an email on the first day of the promotion with the super-secret link.
________________________________________
The International Association of Science Fiction and Fantasy Authors (IASFA) is a professional organization focused on aligning readers with authors. We are building the organization that currently numbers over 600 authors published within the SFF genres. Stay tuned as each month we'll offer full book samplers for free along with less frequent paid book bundle promotions. Help yourself to find your next favorite author.